In the news:
| | |
| --- | --- |
| | The trailer #4 for Christopher Nolan's next Interstellar is here and this time around they reveal a little bit more of the plot. We are definitely very excited. Coming to theaters on 7 November 2014 |
Gravity wins 6 BAFTA's and 7 Academy Awards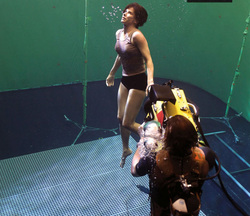 LONDON — Alfonso Cuaron's "Gravity" led the field with six prizes at the
BAFTA
film awards, which unspooled at London's Royal Opera House Sunday. "American Hustle" took three awards.
The BAFTA for best film went to "12 Years a Slave." In his speech, helmer-producer Steve McQueen said that there were "21 million people living in slavery as we sit here now." McQueen was joined at the event by fellow producers Anthony Katagas, Brad Pitt, Dede Gardner and Jeremy Kleiner.
The honor for leading actress went to Cate Blanchett for "Blue Jasmine." She dedicated the award to "the late great Philip Seymour Hoffman." "You raised the bar so very high… So, Phil, this is for you, you bastard. I hope you are proud," she said.
Cuaron took the director prize for "Gravity." He said he considered himself to be part of the British film industry as he had lived in the U.K. for 13 years, and had made half of his films in the country. "I guess I make a very good case for curbing immigration," he joked — a reference perhaps to the ongoing debate in the U.K. about the benefits and costs of immigration.
The leading actor award went to Chiwetel Ejiofor for "12 Years a Slave." He paid tribute to McQueen, and said that the award really belonged to the helmer. "It's yours. I'm going to keep it, but it is yours," he said.
The award for film not in the English language went to Paolo Sorrentino, Nicola Giuliano and Francesca Cima for "The Great Beauty."
The award for special visual effects went to Tim Webber, Chris Lawrence, David Shirk, Neil Corbould and Nikki Penny for "Gravity.
Source - Variety.com
Check out the trailer for Gravity and the in the making featurette
---
Videos we like:
Always interested in crime and justice, Christopher Nolan's first film (a whole seven years before he made Batman Begins) is a curious black and white head-scratcher about a writer who, obsessed with following people, subsequently gets caught up in a life of crime.
In this interview, Nolan explains his key to success and ends up revealing many of the DIY filmmaking techniques he used to make Following.

---
The Great Gatsby's great in the making
| | |
| --- | --- |
| | And the way films are being made has come a long way.. The Great Gatsby was made using host of matte paintings and CG graphics. For us here its really, exciting to see how different creative collaborators can come together to achieve something so great and so believable. Check this out.. Go create something unimagined.. |
Sound Advice we like:

Every time I hear Steven Spielberg talk, I look back and everything in my life makes sense to me. If you are a film maker like me, please listen to how Steven Spielberg became a film maker. All that you do will make more sense to you after these 12 and a half minutes..

Mandeep Sodhi
| | |
| --- | --- |
| | Different things inspire us, they inspire us to create, to do and to be. For film makers, the inspiration can come in the form of visuals, music, sound, the feelings they experience or even a sandwich. Here is Christopher Nolan talking about where his inspiration came from and how he used it. |
| | |
| --- | --- |
| | A great film begins on a piece of paper. If it gives you a goose-flesh as you read it, it may as well make a great movie (generally talking). But so was the case with Chuck Palahniuk's Fight Club when it was adapted into a screenplay by Jim Ulhs. Jim Uhls is not your average screenwriter. For one thing, his nickname is "Professor Peculiar." For another, as this exclusive off-kilter discussion of his craft demonstrates, Uhls is eager to break the first rule of Fight Club: He talks about Fight Club. A lot. That seminal film, directed by David Fincher (Se7en, Panic Room), pushed every boundary possible for a studio movie, and Uhls' darkly funny script, adapted from the Chuck Palahniuk novel, is a wickedly subversive example of how to successfully adapt an "unadaptable" book. |
People we like: